News
ERF-Radio – Sendereihe – Glaube global
Medizinische Hilfe, die ankommt.
ZUM NACHÖREN!

Am Dienstag, dem 12. März, um 20:00 Uhr wurde im Evangeliums-Rundfunk (ERF)
in der Sendereihe "Glaube global" ein Interview
mit unserem 1. Vorstandsvorsitzenden Peter Braun gesendet.

Der Titel lautet: "MEDIZINISCHE HILFE, DIE ANKOMMT."

Unter folgendem Link ist die Sendung in der ERF-Audiothek nachzuhören:

www.erf.de/erf-plus/audiothek/glaube-global/medizinische-hilfe-die-ankommt/8293-232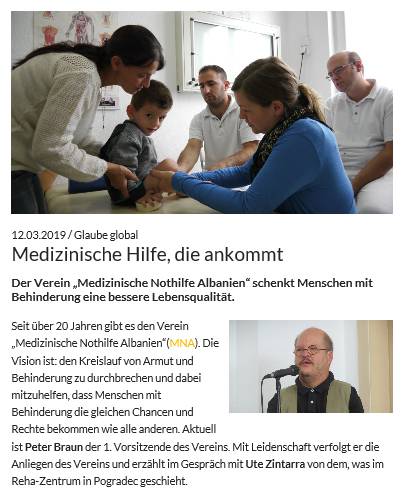 MNA-Newsletter 1-2019
Schauen Sie, lesen Sie, informieren Sie sich!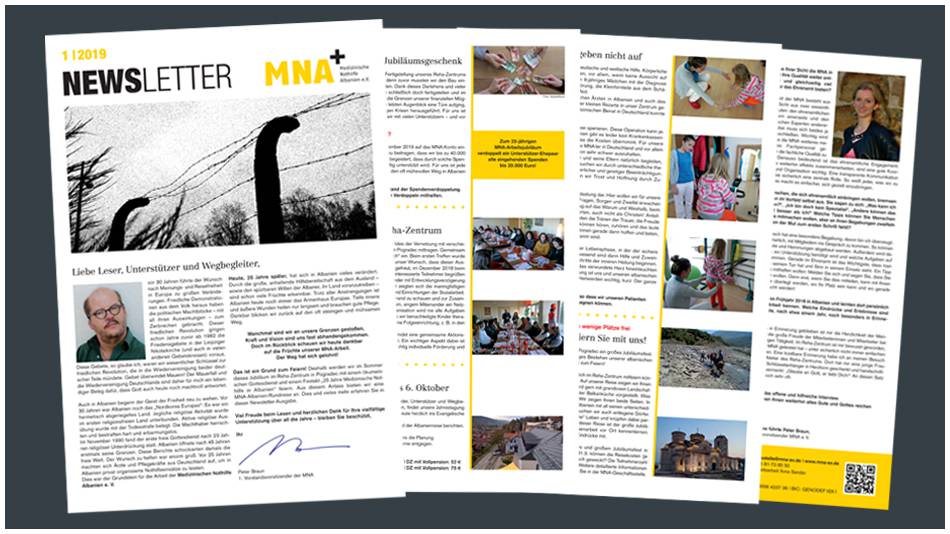 Unser Newsletter zum Frühlingsanfang ist online. Wir haben wieder interessante Beiträge, Informationen zu einer angebotenen Albanien-Rundreise und weitere Anregungen für Sie bereitgestellt. Schauen Sie herein. Lesen Sie und lassen sich begeistern was mit Ihrer Unterstützung möglich ist.

Sie finden den Newsletter unter:
Zeitschriftenplattform Yumpu: www.yumpu.com/de/document/view/62449530/270219-newsletter01-yumpu
oder
bei Facebook: www.facebook.com/Medizinische.Nothilfe.Albanien/

Wenn Sie unseren Newsletter per Email erhalten wollen, schreiben Sie uns einfach eine Mail an die MNA-Geschäftsstelle: Geschaeftsstelle@mna-ev.de
VORMERKEN – MITREISEN – MITFEIERN
"2019 ein Jubeljahr \u2013 feiern Sie mit! Kommen Sie mit uns auf eine Reise nach Albanien!"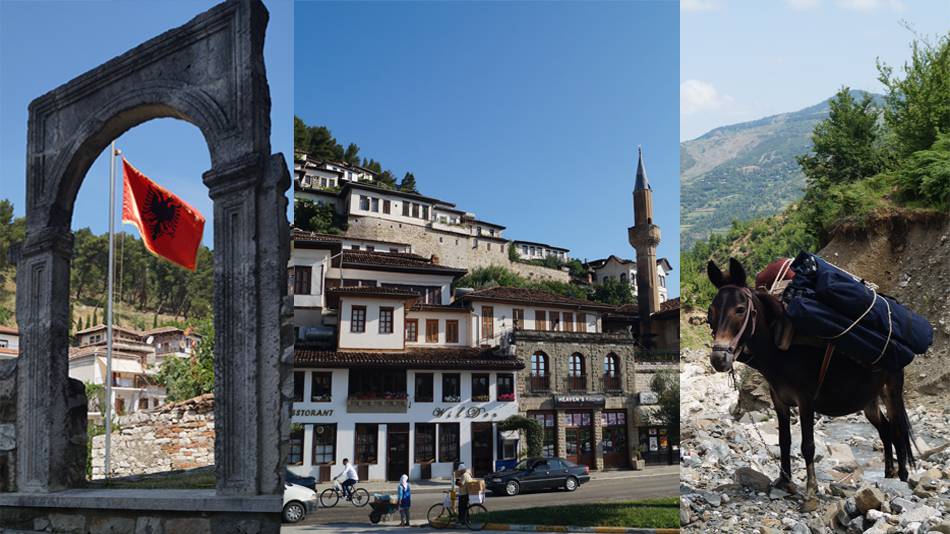 Vor 25 Jahren waren die ersten Helfer aus Deutschland in Albanien. Aus dieser medizinischen Nothilfe-Gruppe ist unser heutiges Werk, die "Medizinische Nothilfe Albanien e. V.", entstanden. Vor 10 Jahren gründete die MNA die albanische Partnerorganisation "Qendra Drita e Shpresës".

Dankbar blicken wir zurück und werden am 22. Juni 2019 in Pogradec ein großes Jubiläumsfest feiern.

Damit viele Freunde und Unterstützer unserer Arbeit mitfeiern können, verbinden wir den Festakt mit einer Albanien-Rundreise.

Auf unserer 2. Reise, vom 20. – 29. Juni 2019, wollen wir Ihnen wieder viele Gesichter Albaniens zeigen. Touristisch stellt sich Albanien gerne mit grandiosen Landschaften, kultureller Vielfalt, gastfreundlichen Menschen und guter Balkanküche vor. Was die "normalen" Touristen nicht sehen, ist das ganz alltägliche Leben. Wir werden Ihnen beide Seiten Albaniens zeigen. In unserer geführten deutschsprachigen Albanienreise stellen wir Ihnen das Land mit all seinen unterschiedlichen Facetten vor. So erhalten Sie einen authentischen Einblick in das Land. Auf der einen Seite stehen die touristischen Highlights, wertvolle Kulturschätze und die atemberaubende Natur. Andererseits besuchen wir auch entlegene Dörfer. Werfen Sie selbst einen Blick auf das "normale und alltägliche" Leben und knüpfen dabei persönliche Kontakte zu Albanern. Ein besonderer Höhepunkt dieser Reise ist der große Jubiläums-Festakt in Pogradec, hier werden Sie unsere Albanienarbeit vor Ort kennenlernen. Von dieser Reise nehmen Sie viele wertvolle Eindrücke mit.

Die Reisekosten mit Flug, Übernachtungen (HP) und großem Jubiläumsfest in Pogradec betragen 1.500 Euro.

Wie Sie bereits im Newslettern 3/18 gelesen haben, war unsere erste Albanienreise ein voller Erfolg.
Haben wir Ihr Interesse geweckt? Die Teilnehmerzahl ist begrenzt – bei Interesse melden Sie sich bitte schnell an.

Weitere detaillierte Informationen zur 10-tägigen Albanienreise vom 20. – 29. Juni 2019 erhalten Sie in der MNA-Geschäftsstelle: Geschaeftsstelle@mna-ev.de
Experten-Kurzzeit-Einsatz im MNA-Rehazentrum
Die Ergotherapeutin Katharina Beutl aus Wien war zusammen mit ihrem Mann 2 Monate im Rehazentrum. Sie hat ihr Fachwissen an unsere Teams weitergegeben und ihr Mann unterstütze uns in technischen Angelegenheiten. Euch beiden Herzlichen Dank!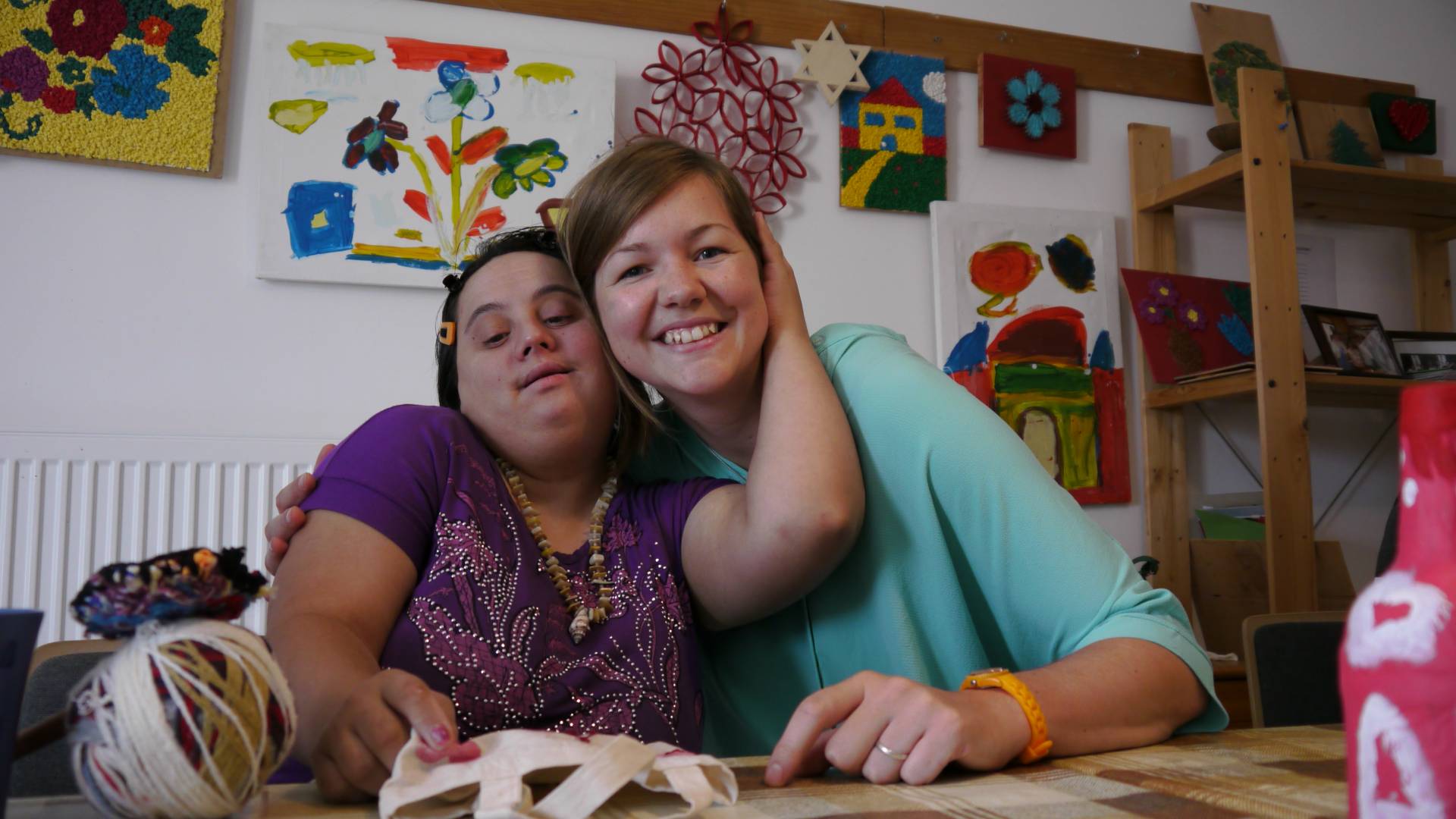 Seminar "Diabetischer Fuss" im neuen MNA-Rehazentrum
Vielen Dank an Dipl.-Ing. Monika Spengler, die unserem Team und albanischen Fachleute wichtige Grundlagen rund um die Versorgung des Diabetischen Fußes weitergegeben hat.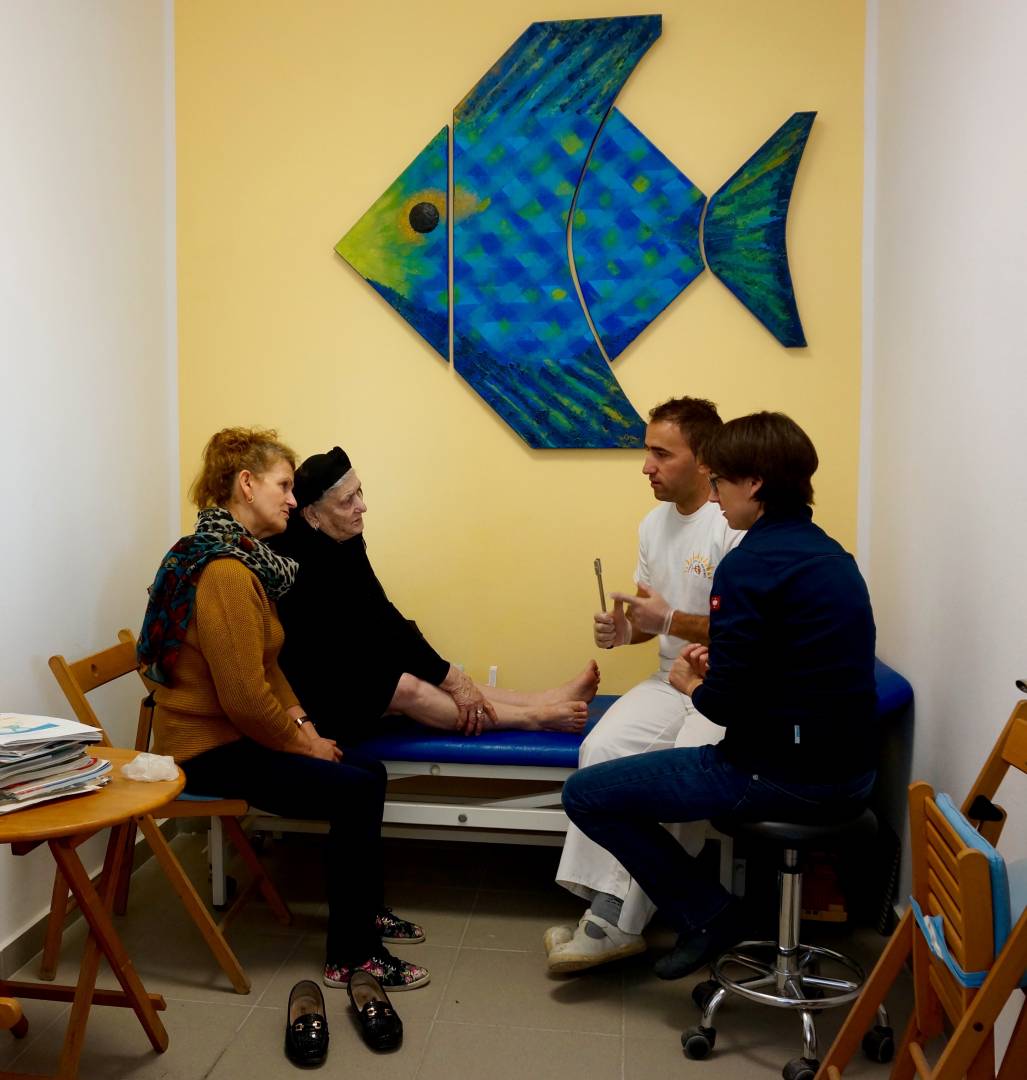 Film about our project on Deutsche Welle: Glaubenssachen "Tufe läuft - Medizinische Nothilfe in Albanien"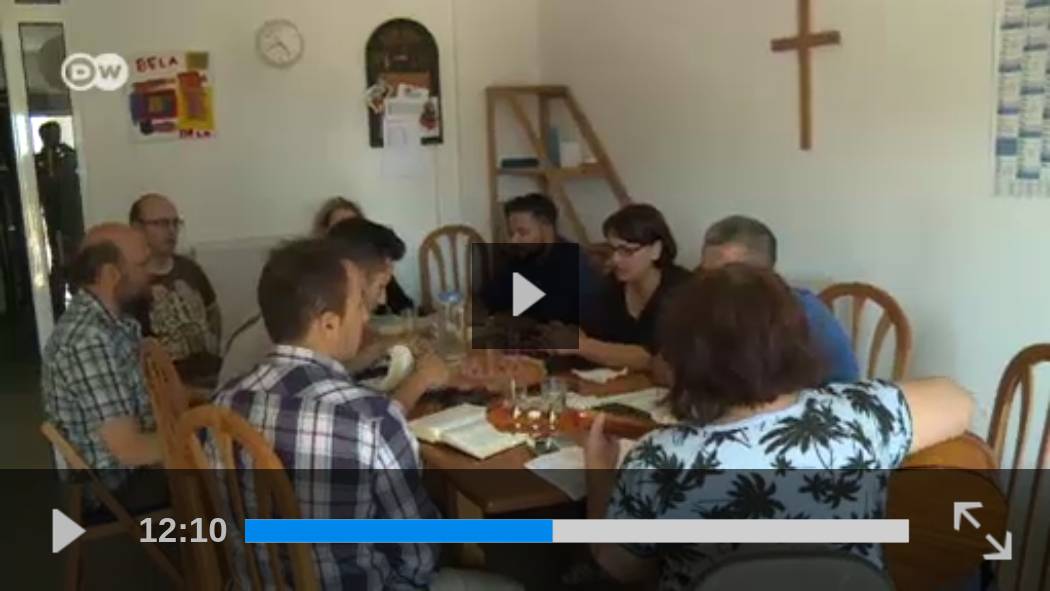 Report on the website of the German Embassy in Tirana on the opening of the new rehabilitation center of Medizinischen Nothilfe Albanien.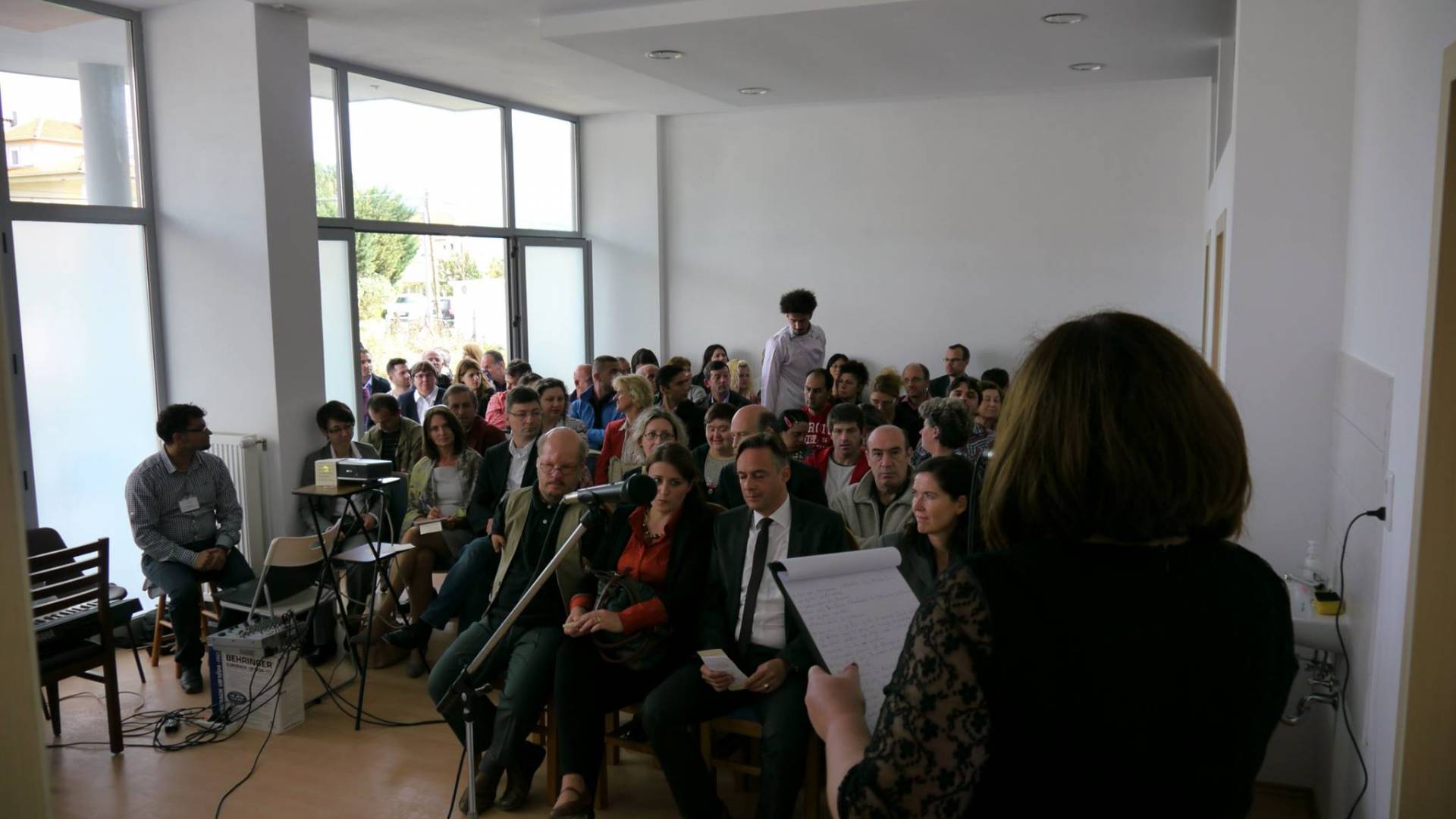 INAUGURATION OF THE NEW rehabilitation center
In October, the solemn inauguration of the new rehabilitation center took place. A big thank you to all who have made this step possible. More information and pictures can be found on Facebook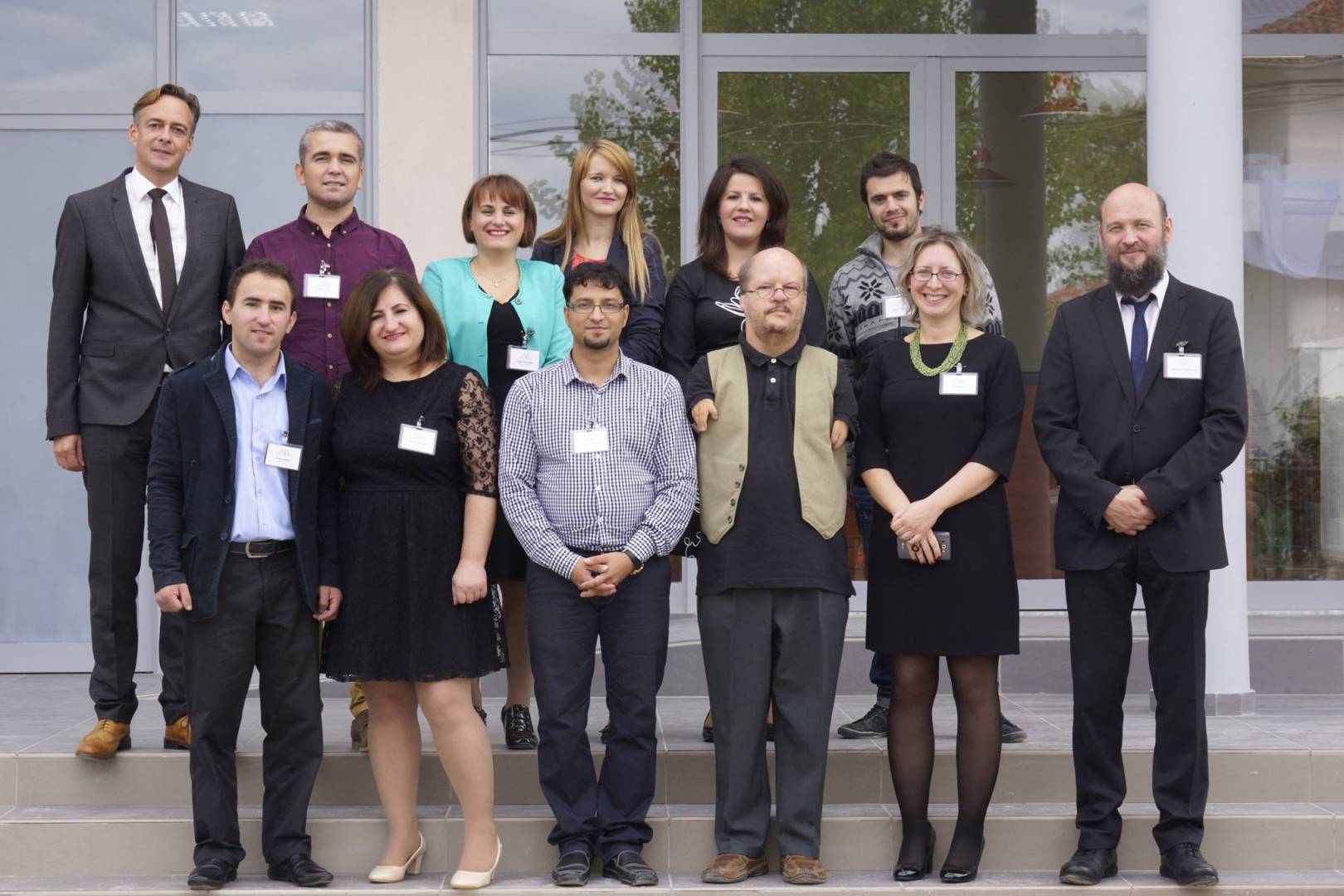 Who can give us practical support and assistance?
To renovate and complete the building of our Rehabilitation Center, we are searching for electricians with specific abilities, heating technicians, painters, and tile layers. We need as well people who are good with working at handicrafts. If you fill the bill, we would be happy to have you join us to help our project in Pogradec.

We need people to help with the following projects:
- complete electrical installation
- installation of heating
- masonry and painting
- tile work
- installation of doors, kitchen
- carpenters to help build tables
- general moving work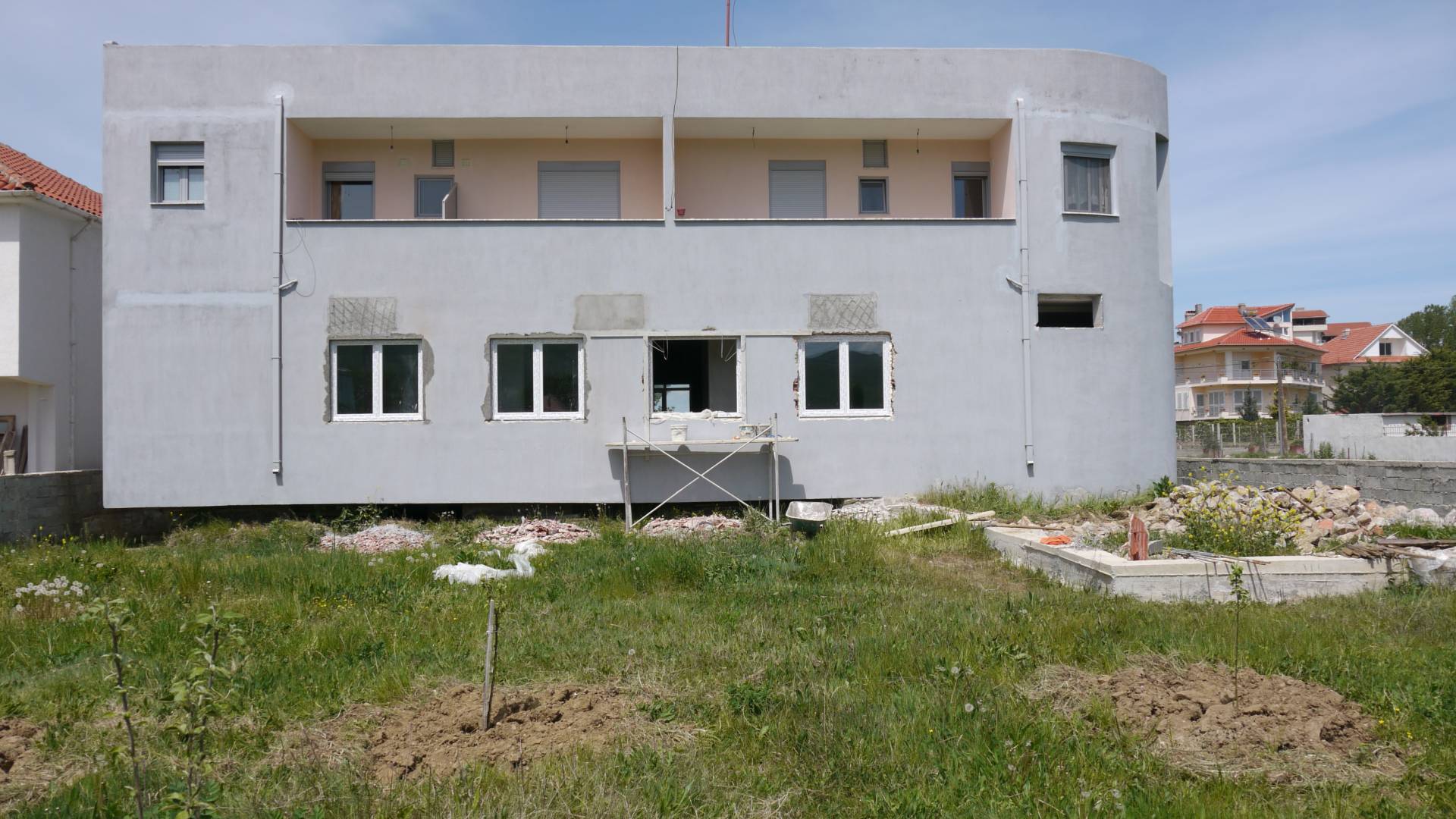 REPRESENTATIVE OF THE GERMAN EMBASSY VISITS
In the middle of April representatives of the Department of Economy of the German Embassy in Tirana visited us in the new rooms of the "Qendra Drita e Shpreses" in Pogradec in order to get to know our center. Our leader, Elvana Cuni, led the delegation through our new buildings and explained our work. This meeting was positive in all respects. The representatives of the embassy were enthusiastic and impressed with our activities and the numerous possibilities which give people in Albania hope and a new quality of life. We received the promise for financial support to be able to complete the new center. This support will provide for the new interior of the therapy rooms and interior doors and windows. Our leader Elvana Cuni and the entire team are very happy and grateful to have this support.
LINDITA CRIES WITH JOY - AFTER MANY YEARS WITHOUT A PROSTHESIS SHE CAN ONCE AGAIN TAKE PART IN LIFE
Lindita is 33 years old and lives in Berat. She is married and has a 14 year old daughter. Due to a bone tumor in 2004 her thigh had to be amputated. In 2006 she received an artificial limb from Tirana, but it was uncomfortable for her to wear and it broke after only half a year. After that she could only get around poorly with crutches, and that in a limited radius. The family owns no vehicle and gets everywhere by foot. Their funds were neither enough to get to our Rehab-Center nor to pay for another prosthesis. But Italian Benedictines brought her to us and enabled her to get a new prosthesis which has made it easier for her to take part in life again. Lindita was deeply moved and cried with joy and with tears.
This was a very moving moment for our MNA team as well.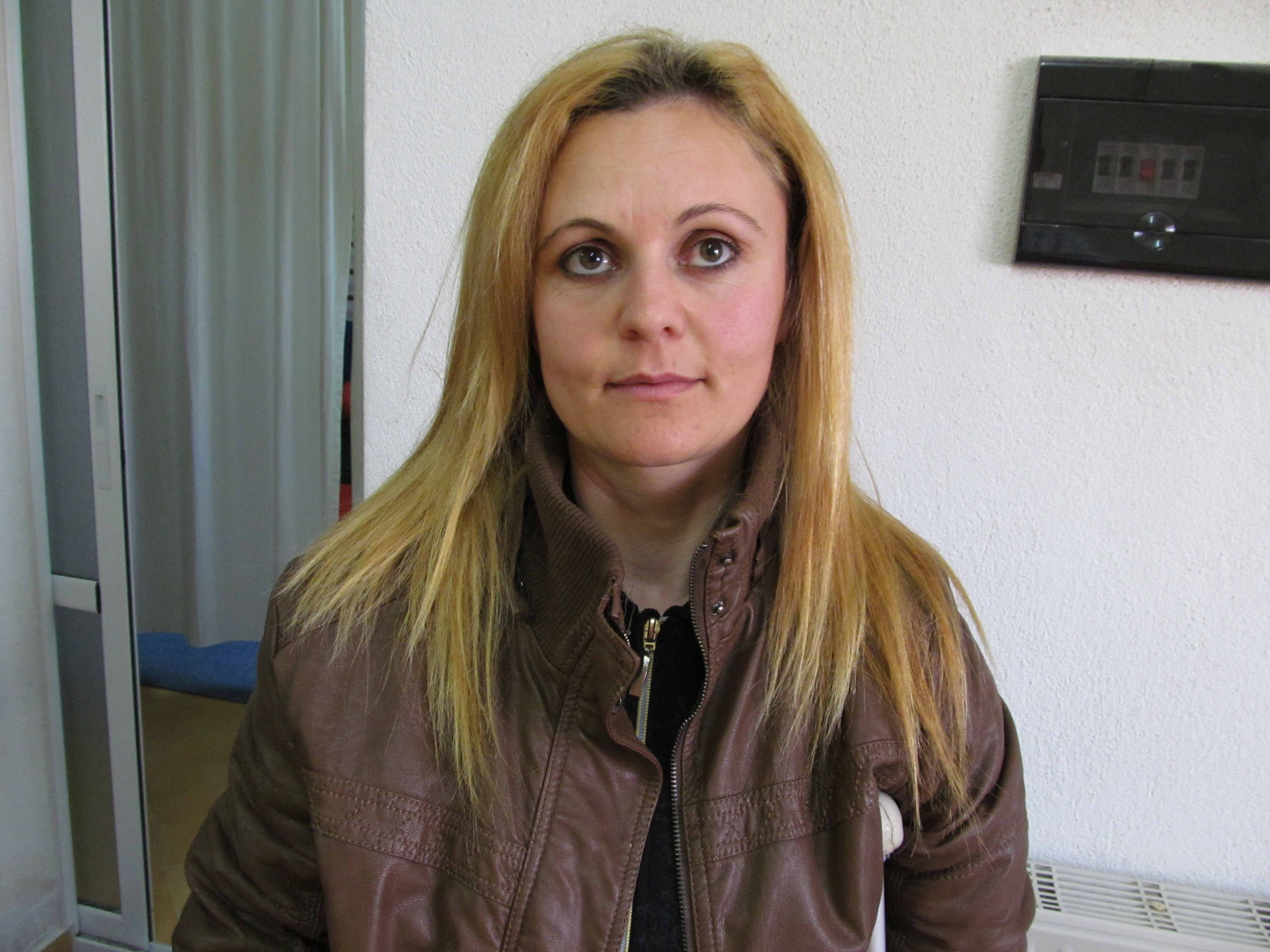 ...WE, THE MEDICAL EMERGENCY ALBANIA e.V., WISH YOU A VERY HAPPY NEW YEAR!
Heartfelt thanks for your support of our work in the past year!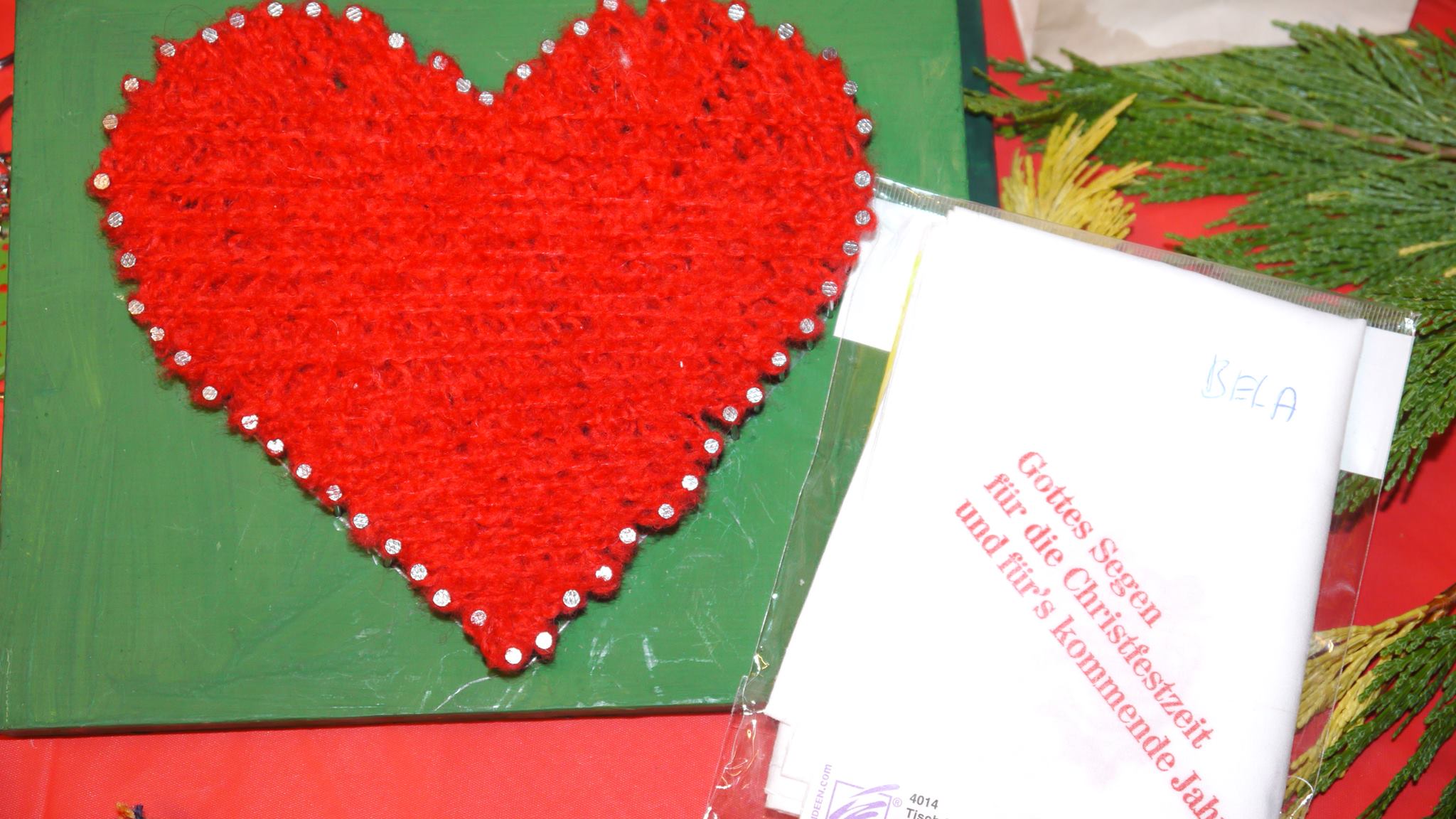 CHRISTMAS MARKET IN BUCIMA/ POGRADEC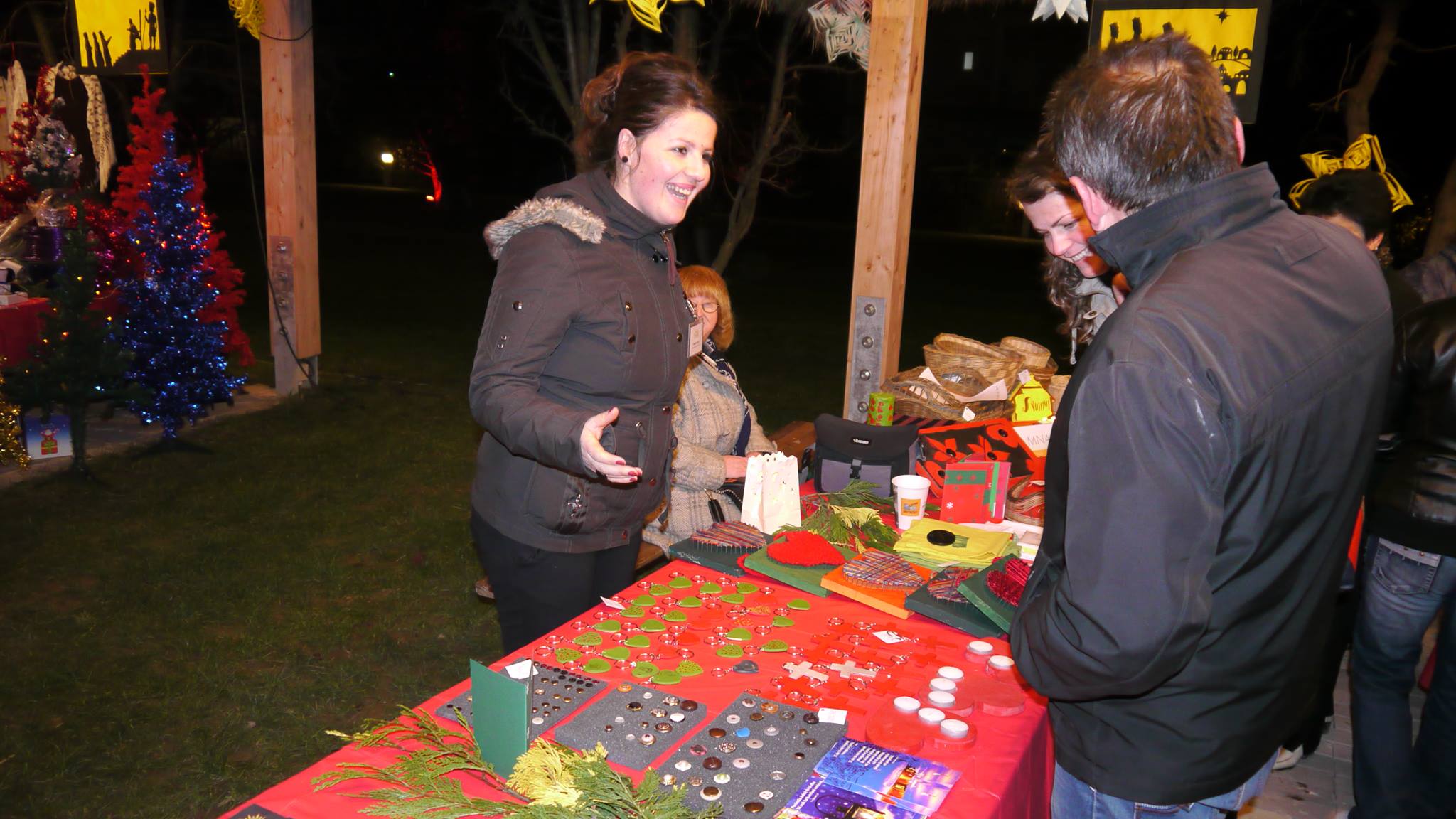 SEARCHING FOR A NEW EMPLOYEE TO INSPIRE US ALL!
In our creative work shop we would like to develop a new position for a care giver.
To help deal with the growing needs of our Promotion Group, we would like to give an unemployed mother the chance to grow into a therapeutic pedagogical job. The chosen woman appears to us to be very suitable for this care giving role. She is motivated and is willing to be trained for the needs of the handicapped groups. To give this mother the chance of a vocation we will need 250 euros per month for an appropriate beginning wage.

Who would like to help finance this Albanian mother with a monthly regular donation? Naturally, it would also be a great help if you could send a portion of this sum regularly to cover some of her wage.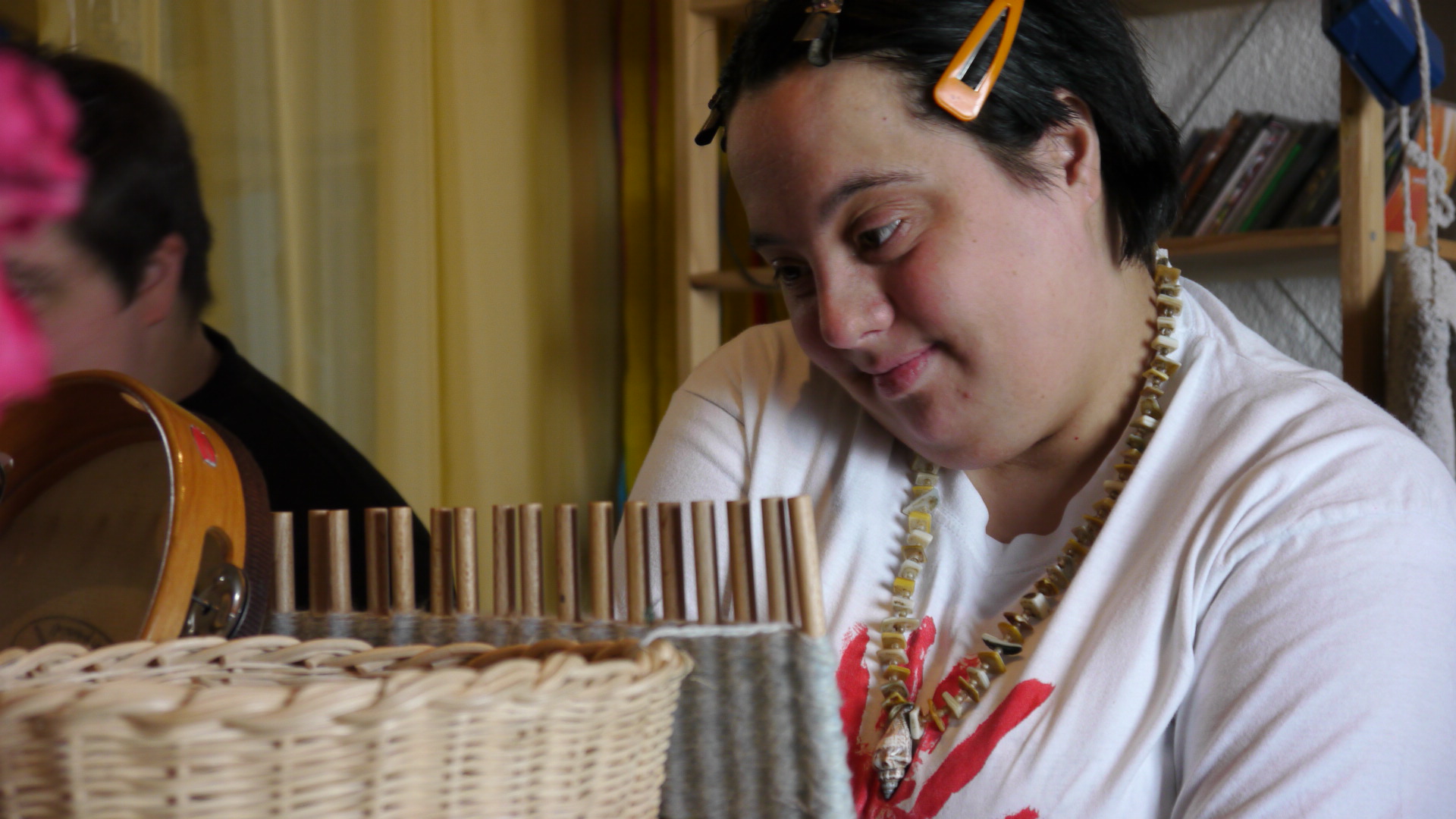 BENEFIT CONCERT IN FRIEDRICHSHAFEN WAS A GREAT SUCCESS
A benefit concert for the MNA was held in Friedrichhafen's castle church on October 11.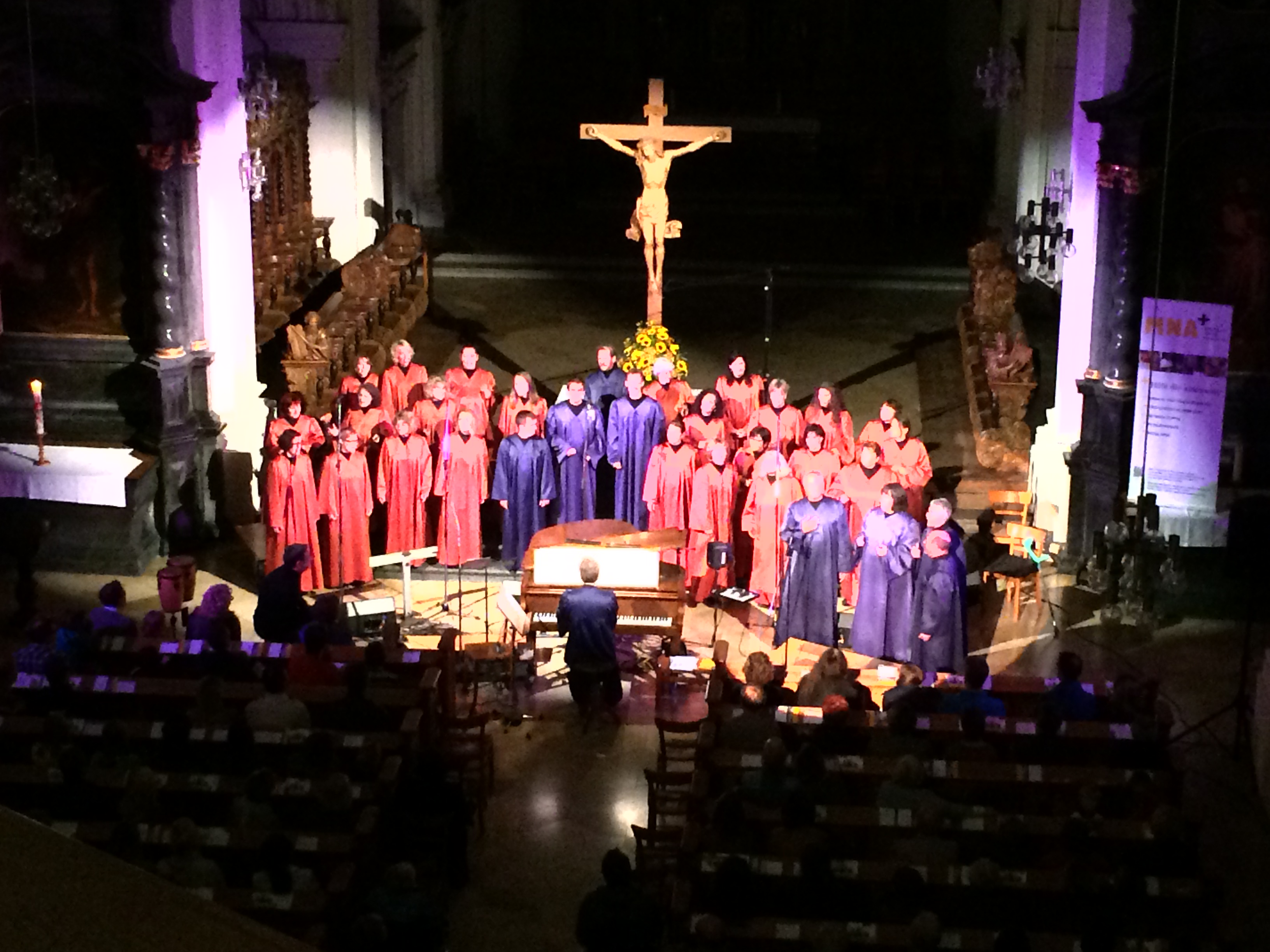 Under the leadership of the church's music director Sönke Wittnebel, the choir "Almost Heaven" enthused an audience of more than 550 people. We are grateful for the proceeds, which will help the continued financing of our Rehab-Center in Pogradec.

The support from Friedrichshafen continues.

After the benefit concert, the entire Protestant church council also decided to support the work of the MNA in the future. The next step will be a Christmas roject, when companies and business people in the "Bodensee" (Lake of Constance) area will be asked to donate to the organization. These donations too will be used to finance our Rehab-Center.
3. DECEMBER 2014 - INTERNATIONAL DAY OF PEOPLE WITH DISABILITY
A special day in Pogradec's Town Hall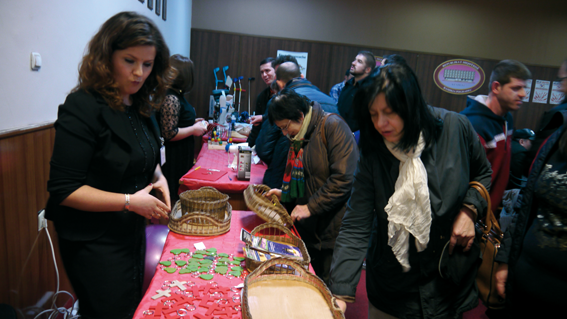 Vasilika Rapce, the leader of the "Atelier", our Albanian team from "QDSH", organized this special occasion. After the ceremonial opening in the town hall by the woman responsible for the town's position for People with Disability, and Elvana Cuni, the new leader of the center "Qendra Drita e Shpresës" (QDSH), and an impressive presentation of photography as well as a few words from Bela's mother, there was plenty of time for discussion, sharing information, and getting to now one another. Bela visits our "Atelier" group and works in the "Betesda Coffee".
ACCOMPLISHMENT
Three years ago Ermal Rapce began training in the orthopedic workshop at " Qendra Drita e Shpresës " (QDSH)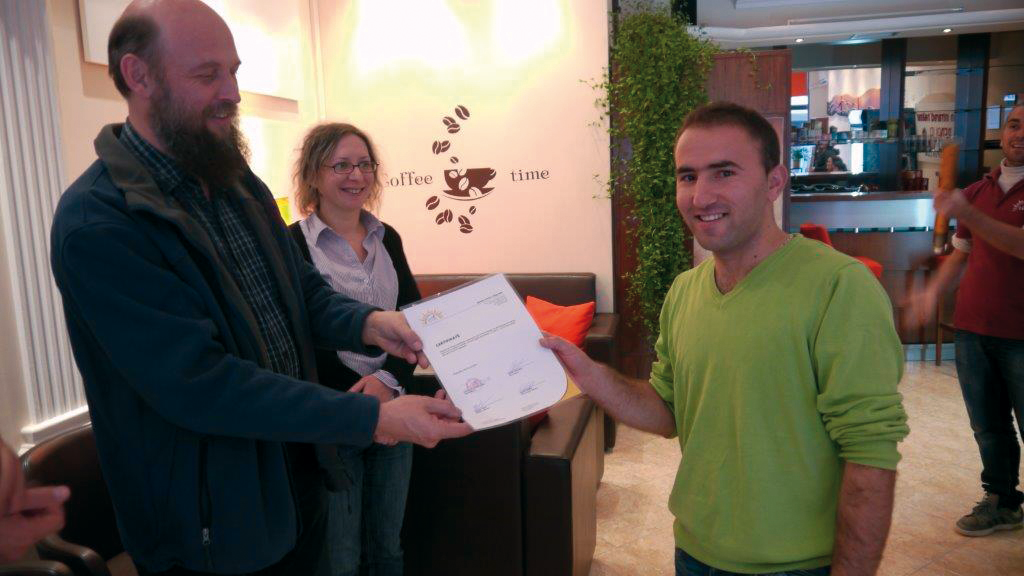 The training was intensive and extensive. But at the end we could celebrate Ermal Rapce's accomplishments with a small ceremony to honor his successful training and give him his Certificate of Apprenticeship. In his thank you speech, he told us it is important for him to continue his education in this field for the benefit of the patients who put much trust in him.
NEW LEADERSHIP IN ALBANIA
We are pleased that Elvana Cuni, an experienced Albanian employee from the existing team in the Center, could take over the leadership of the Center on October, 1st 2014. We are now a step further, gradually giving over the responsibility to Albanian hands.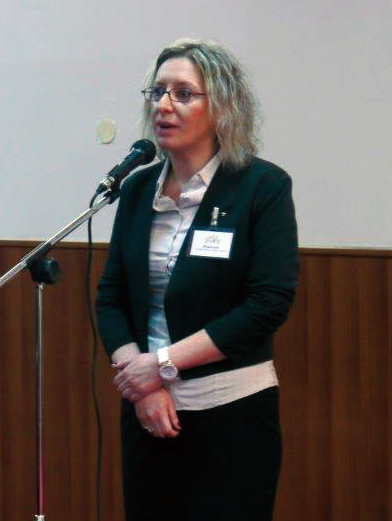 WE OPEN DOORS FOR PEOPLE WITH DISABILITIES IN ALBANIA - PLEASE HELP US.
Many thanks for your support in helping us with our very challenging construction project of the Rehabilitation Center.
Without your help we would not be as far along as we are! There is still a long way to go, however. To accomplish the next steps we urgently need windows and doors. For the purchase of these items we expect costs of about 5500.00 euros, money which we don't yet have in the bank.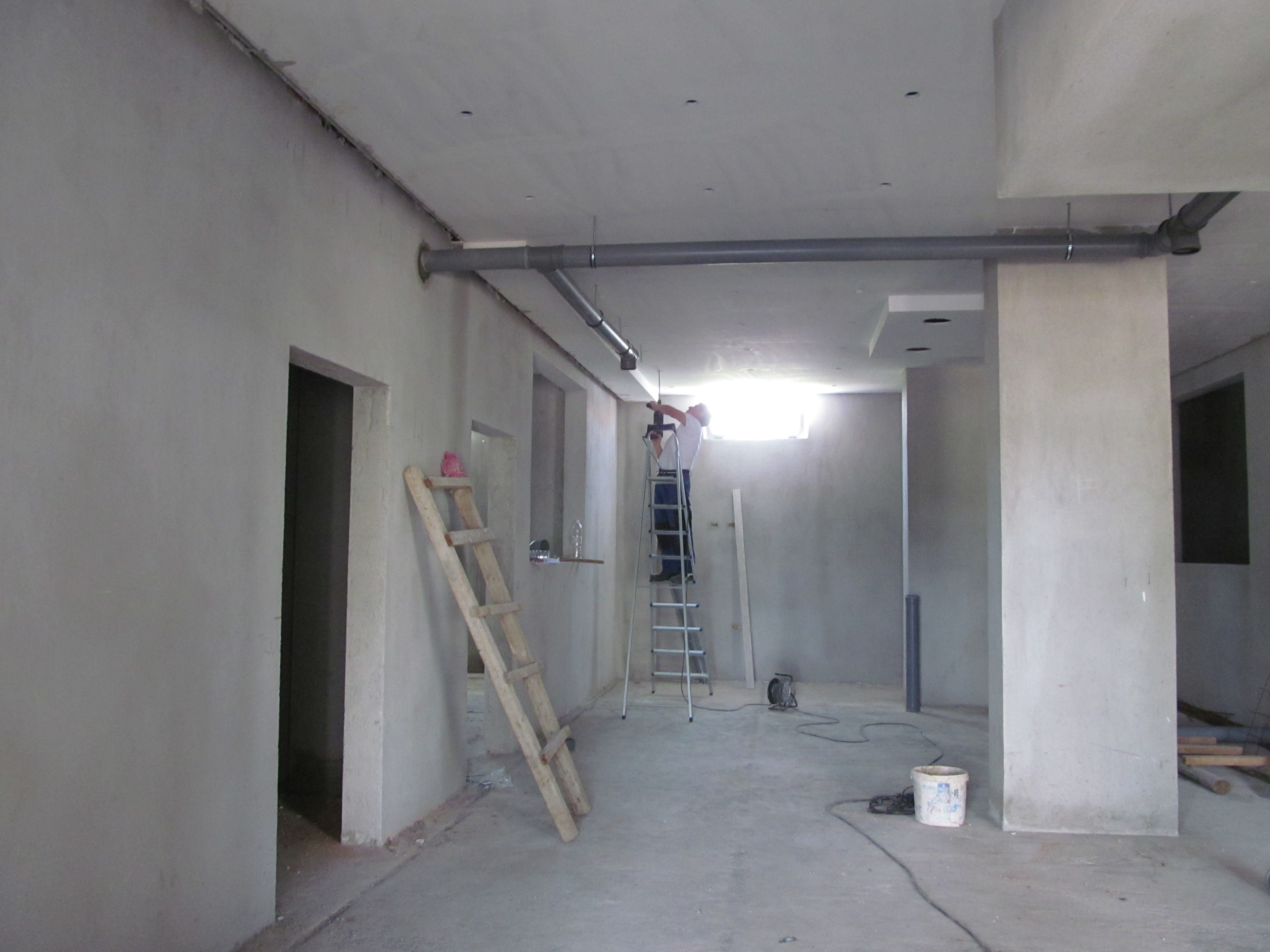 FAMILY MÜLLER INTRODUCES ITSELF
Our names are Rebeca (36) and Daniel (37). Our children are Kimberly (7) and Kylie (5). We have been married for 14 years and lived in Germany during this time. Because Rebeca is from Ecuador we speak German and Spanish in our family.

We have lived in Pogradec, Albania since 15. April 2014 and I work in MNA's orthopedic workshop. As German development aid workers, we are on assignment from CFI and MNA in Albania. Departing Germany, the move, and settling here in Albania provided exciting times and experiences for us. It is not always easy to rganize family life in a new place, learn a new language, and to manage schools, shopping, and work. Despite many difficulties we feel sure that we are at the right place.

The daily contact with our patients and the many small encounters with different people keep showing us how important and necessary the work here is.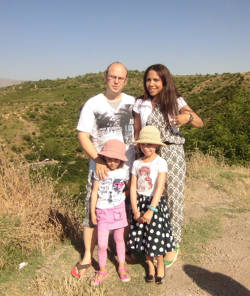 REHAB-CENTER " Qendra Drita e Shpresës "

Much work still is ahead of us, and a financial challenge greets us as well, but together with you we will manage. Would you like to join in and help us?
We would be very pleased if you could support the project with a fund raiser.
Examples of a money-raising activity could be a cake sale, a raffle or something similar at your job, church, club or school.

Give us a call, or write to us at Geschaeftsstelle@mna-ev.de if you would like information and support. We will happily help you.
AKTION: MIT DIESEN STEINEN KÖNNEN WIR BAUEN!
Sie können uns helfen in dem Sie einen oder zwei oder mehr "Bausteine kaufen"!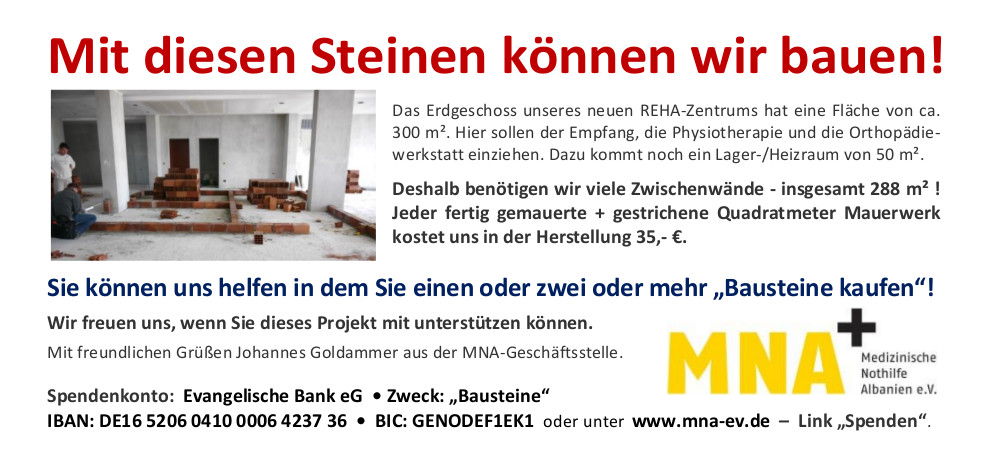 PDF-Flyer
Viele 1000 Menschen mit einem Handicap leben in Albanien ohne Hoffnung auf Hilfe. Damit sich diese Situation nachhaltig verändert, bildet die Hilfsorganisation MNA seit vielen Jahren Rehabilitationsfachkräfte aus. Das alte Rehabilitationszentrum "platzt aus allen Nähten", daher wird gerade ein neues gebaut.

Helfen Sie mit einer "Steinspende"!

So wird das Leben vieler Menschen mit einer Behinderung und ihrer Familien nachhaltig verbessert.
Unser Team in Albanien erhält Unterstützung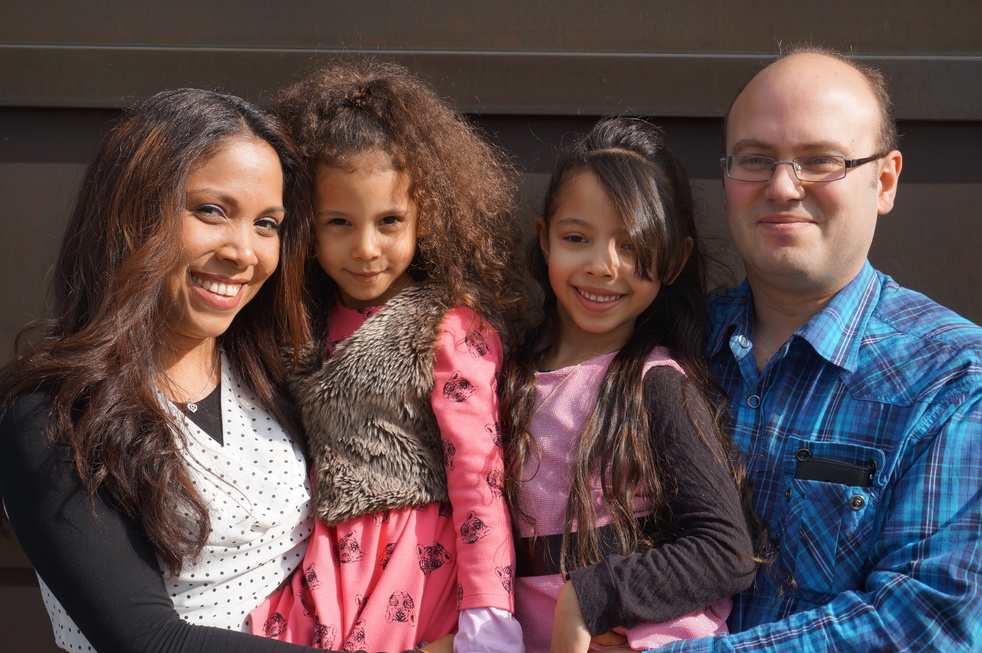 Wir freuen uns Rebeca und Daniel Müller mit ihren beiden Kinder in Pogradec begrüßen zu dürfen. Sie befinden Sich momentan in der Vorbereitung und Umzugsphase von Deutschland nach Albanien. Daniel wird sich um die Ausbildung unserer albanischen Orthopädie-Techniker kümmern

– Herzlich Willkommen!
Es leben 220 000 Menschen mit Behinderung in Albanien
Nach offiziellen Schätzungen leben 220 000 Menschen mit Behinderung in Albanien
Die meisten dieser Menschen haben kaum Hoffnung auf Hilfe und Rehabilitation. Unser Anliegen ist es durch Ausbildung von Rehabilitationsfachleuten und medizinische Versorgungsangebote, das leben dieser vielen Menschen nachhaltig zu verändern.

Ein schönes Beispiel wie diese Hilfe ein Leben verändert sehen Sie hier:
Naris Geschichte - Medizinische Nothilfe Albanien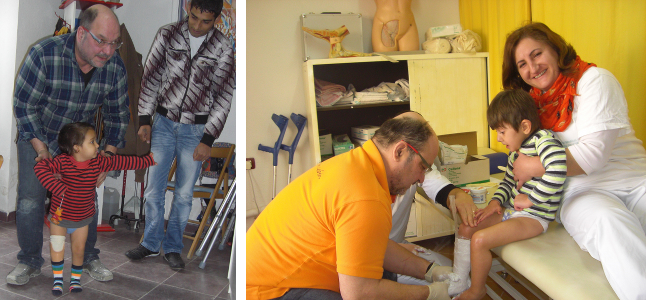 JAHRESAKTION 2014 DER DEUTSCHEN PFADFINDERSCHAFT SANKT GEORG
JAHRESAKTION 2014 DER DEUTSCHEN PFADFINDERSCHAFT SANKT GEORG

Wir freuen uns, dass die Deutsche Pfadfinderschaft Sankt Georg in Kooperation mit Renovabis (Osteuropa-Hilfswerk der Katolischen Kirche)
das MNA Projekt, Betesda Coffee, ausgewählt hat.

PFADFINDERSCHAFT SANKT GEORG, JAHRESAKTION 2014BETESDA COFFEE
PROTHESENVERSORGUNG ÜBER GRENZEN HINAUS
Lesen Sie wie die MNA und das Qendra Drita e Shpresës einem Südafrikaner helfen konnte.
Vielen Dank an unsere beiden langjährigen Unterstützer Martin Pfrommer, Fa. Gross und Firma Julius Teufel, die die Aktion ermöglichten.

Hier finden Sie den ausführlichen Bericht über die Aktion:
ORTHOPÄDIE AKTUELL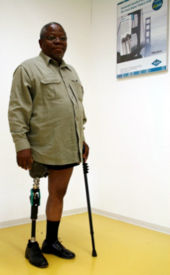 WEIHNACHTSMARKT AKTION
Weihnachtsmarkt Aktion der Werkstatt für Menschen mit Behinderungen in Oschersleben
Wir bedanken uns bei Herrn Rainer Rose für die Durchführung der Adventspendenaktion zu Gunsten der Medizinischen Nothilfe Albanien.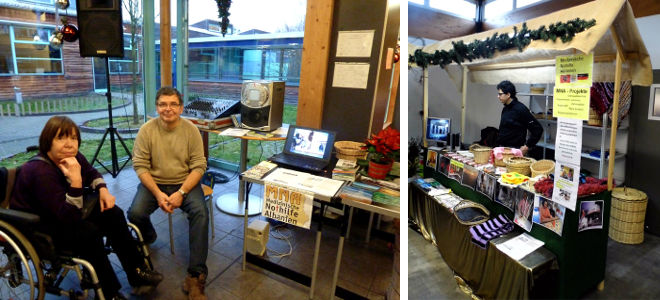 BETESDA COFFEE
Eröffnung des ersten integrativen Caféhauses in Albanien für Menschen mit und ohne Behinderung
In unserem neu eröffneten "Betesda Coffee" Projekt erhalten Menschen mit Behinderung die Chance nach ihren individuellen Möglichkeiten einer honorierten Tätigkeit nach zu gehen.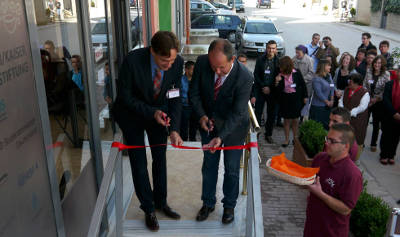 DESIGNTREU - GRAFIKBÜRO SPENDETE 2013 DEN NEUEN MNA-WEBAUFTRITT
Denise Seemann
Dipl. Kommunikationsdesignerin

Jakob-Beutter-Straße 14
72336 Balingen

T 07433-1 40 65 20
F 07433-1 40 65 10

denise.seemann@designtreu.com
www.designtreu.com

REDPUR SPENDET 2013 WÄRME FÜR DAS BETESDA COFFEE
Die "Betesda Coffee"-Besucher und unsere Mitarbeiter freuen sich über die angenehme Wärme der REDPUR-Infrarotheizung.

www.redpur.com